Local learning marketplace Mavensdotlive and Young Entrepreneurs Association Brunei (YEAB) recently organised a sharing session dubbed "Make Leadership Training Truly Effective" with distinguished speaker Dr Carl Thong, the Group MD of momenta, one of the largest training companies in Asia.
In her opening speech, Goh Chai Li, founder of Mavensdotlive and Managing Director of Momenta Brunei said that globally, companies have invested billions of dollars in employee training and development.
"The latest data from Statista says that in the US alone it has passed the 100 billion dollar mark for the first time, the highest after the pandemic. Another research by the LinkedIn Workplace Report from this year, 49 per cent of L&D chose leadership and management as their focus area, leadership training is already a big trend globally," she said.
This was most needed during and post-pandemic, when organisations have had to build resilience, learn to adapt quickly and with agility, and use initiative to stay flexible with changing environmental needs.
There were 40 people in attendance from various stakeholders or organisations such as Unified National Network, Rentokil Initial (B) Sdn Bhd, Baiduri Bank, KIMI Brunei, GoMamam, Makan Ceria, Aegis Secure Solutions, Jerudong Park Medical Centre, Comquest, Network Integrity Assurance Technologies and Progresif.
As a strategy consultant to drive innovation and strategic leadership workshops, Dr Carl Thong mentioned that leadership is not a 'training programme' or 'just simply attending a workshop or a Ted Talk', but rather, a formation and development process.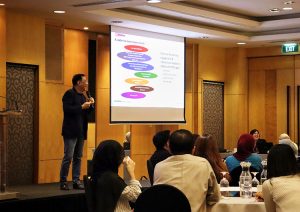 A comprehensive and holistic leadership development and formation framework would focus on three core parameters; competencies, capacity and character.
It is not easy and requires much effort. Developing an individual to be a leader is a journey. But it begs the question for the person or organisation, is the journey an incidental one or an intentional one, said the speaker.
During the closing remarks, Louis Loo, Vice President of YEAB said that leadership development is important because it is how organisations develop the talent they already have into the leaders they need for tomorrow.
The transition from an individual contributor to a leader is a big one, he added.
Momenta is the Global Partner for the Ken Blanchard Company in Singapore, Indonesia, Brunei, Hong Kong and Macau.
For more than 40 years, Blanchard has been helping organizations develop inspired leaders at all levels and create cultures of connection that unleash talent and deliver extraordinary results.
For further information, please visit www.momenta.biz
Article by The Bruneian