Having decided which products & services will be offered and then done some high level marketing activities, private wealth firms deliver these services in a 'high touch' way – through very senior private bankers (PBs), wealth managers (WMs) and relationship managers (RMs).
We now look at the 'final mile' – the sales, advice and relationship management processes of Indian private wealth firms.
Relationship managers learn technical skills on the job
Wealth management firms have been lamenting the lack of talent for many years. When asked about the talent pipeline, most firms confirmed that they prefer to hire people with private wealth experience. Banks groom talent by lateral hires from retail (affluent) and corporate banking, which in turn hire MBA graduates. Relationship managers are then trained on-the-job, with some external input such as CIEL's wealth management program.
Interestingly, banks or firms have not engaged with global specialist wealth management accreditation providers such as Chartered Wealth Manager (CWM), or even specialist investment accreditation providers such as the CFA Institute. The CFA Institute has been sharing that an increasing proportion of charter-holders of their flagship Chartered Financial Analyst (CFA) program work in wealth management. Even in India, the CFAI has been holding an annual wealth management conference for six years to engage with the wealth management community.
Sales processes seem to be about the pitch…
Indeed, most wealth firms seemed to focus on the softer skills of sales and relationship management when hiring RMs. We couldn't find any client surveys of satisfaction levels in India, but there have been a few globally with mixed feedback.
In her book 'Wealth Management Unwrapped', veteran Charlotte B Beyer asks her high net worth investor readers to pretend that they are CEOs of their new company My Wealth, Inc and recall the worst sales pitches they have heard from wealth management firms. The book lists some pet peeves listed by investors she has worked with over many years.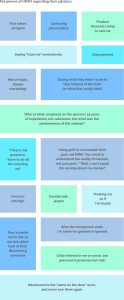 …and advice processes often have communication gaps
In the book, she also highlighted that relationships between investors and their relationship managers break down quite often. She mentioned some common communication gaps, summarised in the graphic.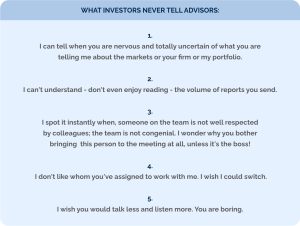 Firms now realising value of sales/advice process
Some private wealth firms have engaged specialist training providers. Carl Thong, group managing director of the Singapore-based Momenta group is such a trainer. Trained as a pastor himself, Thong admits that there was a time that he thought like many in the industry – which is that hard work and attitude are enough. Eventually he realised that "mindset is part of being coached and trained." He now evangelises the value of training promising visible hard results i.e. increased sales, rather than just good feedback on his sessions.
Momenta's sales training has a number of pillars – mindset, technical, habit-formation and instructional design. Thong believes it's important to customise the training to the firm's specific platform and that it is habit-forming.
On customization, Thong said he would like to truly customise but ends up 'copy-pasting' or contextualizing to the private wealth firm's platform. He also believed that most firms don't allow enough time and cost for training to be habit-forming. So while his firm will take on 1-2 training workshops, he is honest enough to tell them it won't work. He tries to tell them that habits take a bit of time to form – "Role-playing is not enough…it's like swimming. You can't read about swimming. You need to drink some pool water before you learn to swim. Even then, swimming in a pool is different from swimming in a river or in the sea."
Having worked with some private wealth firms, and also some end-investors, Thong believes Indian prospects tend to pose transactional questions such as 'how much returns can you make' and 'will you offer a discount on the fees' but it's up to the RM to shift the conversation to a more strategic level.
Written by Money Management India